6 mei 2021
Reading time 3 minutes
Building an eco-efficient future with Barbados Port
Kalmar and Barbados Port Inc. have enjoyed a long and extremely fruitful collaboration. For most of his career at Barbados Port Inc. Divisional Manager, Operations, Mr. Ian Stewart, has worked with Kalmar equipment. BPI most recently welcomed a suite of new machines to its fleet, including two latest-generation hybrid straddle carriers.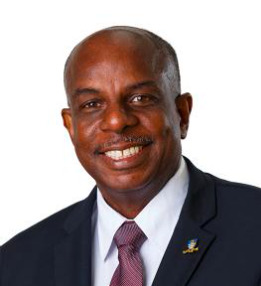 The Port of Bridgetown, managed by Barbados Port Inc. (BPI), is a full-service seaport located in Barbados' capital city. Its marine terminal handles all major categories of cargo including containers; liquid, dry and break bulk; and vehicles. About 95% of the goods consumed on the island pass through the port.
"Passion is at the heart of everything we do; it drives the team forward and inspires us to provide top-notch service to our customers," Ian says. "Our strategic location,coupled with our focus on efficiency, reliability and exemplary customer service positions us well to be the focal point in the region, and we have won numerous Port of the Year awards from the Caribbean Shipping Association, to prove it" he continues. "Of course, our state-of-the-art equipment plays a vital role in our continuing success. I know Kalmar starting from my time as an apprentice mechanic, so I've been working with their machines for more than three decades!"
Rising to the challenge
Although the COVID-19 pandemic has had a huge impact on the maritime industry, Ian is keen to emphasise that he and his team saw a lot of positives too. "Timescales were thrown up in the air, and most of our medium to long-term plans quickly became critical issues that needed more immediate attention," he highlights.
"We've implemented several new digital systems to enable us to provide excellent service to customers even when they can't physically come to the port. Regardless of COVID, our drivers remain the same: we are customer-focused first and foremost. Our vision is to be the most innovative, green maritime hub in the world by 2030. In order to reach this ambitious target we need to reduce our carbon footprint, which means using hybrid or fully electric equipment, adopting innovative processes and automation and looking closely at our efficiencies and how to optimise our operations in different areas," explains Ian.
Ian sums up in simple terms why his organisation has relied on Kalmar equipment and services for such a long time: "It's about value for money. We look to procure equipment that is cutting edge, has synergy with our brand and strategic direction, and which is backed up by solid support from the manufacturer."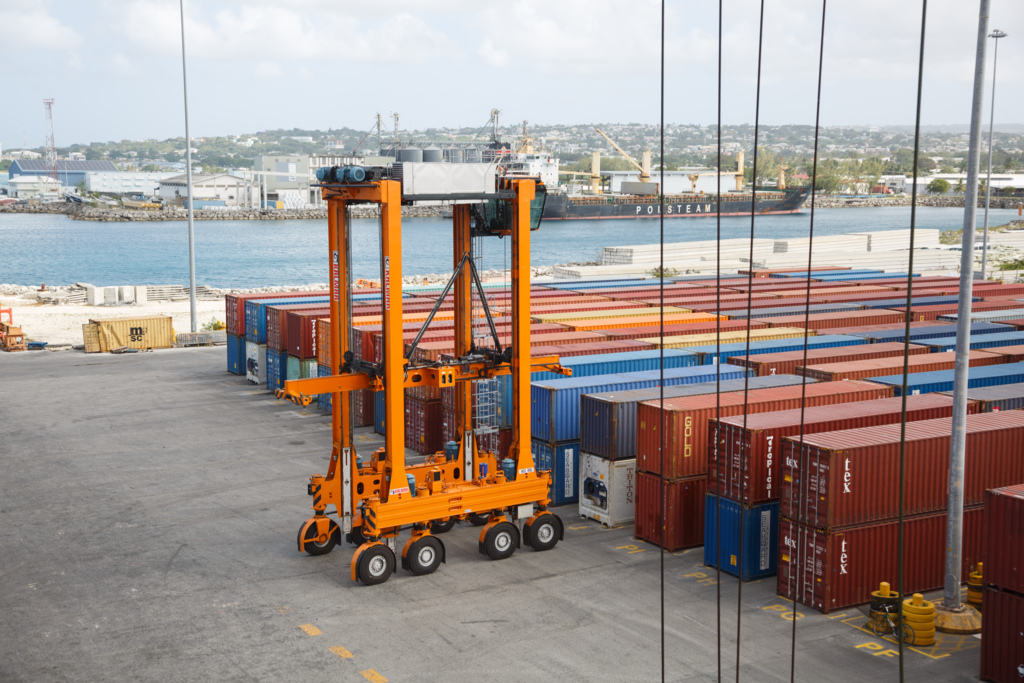 Kalmar – the heart of the fleet
The first Kalmar straddle carrier arrived at the Port of Bridgetown in 1985, and the fleet now includes a total of nine such machines. "That first machine is still in great working order after 36 years," Ian says with a smile. At the close of 2020, the Port's equipment fleet was expanded to include two Kalmar hybrid straddle carriers and four fully electric forklifts as part of a capital investment programme to modernise and enhance competitiveness and enable more eco-efficient operations.
"Whenever we make new investments we are looking to add value to our business. With Kalmar we look beyond the price tag – we have chosen to continue with them based on the excellent quality of their solutions," highlights Ian. "We need a supplier who is easy to communicate with and who has invested in services, particularly parts and the associated logistics services given where we are in the world."
"With Kalmar we look beyond the price tag – we have chosen to continue with them based on the excellent quality of their solutions"
To future-proof their operations, all the new Kalmar straddle carriers purchased by BPI are automation ready and the organisation is investigating how best to take advantage of Kalmar's digital service offering – for example as part of its terminal operating system – to help optimise equipment usage.
Electrifying performance
"The Kalmar electric forklifts have helped our drivers immensely. The cab is a comfortable, quiet working environment, the machines have excellent speed and agility, and their reliability is much higher than comparable diesel hydraulic machines," explains Ian. "And of course, they reduce our operating costs by eliminating fuel costs." The forklifts will be used in break-bulk operations to handle cargo such as steel, cement and lumber.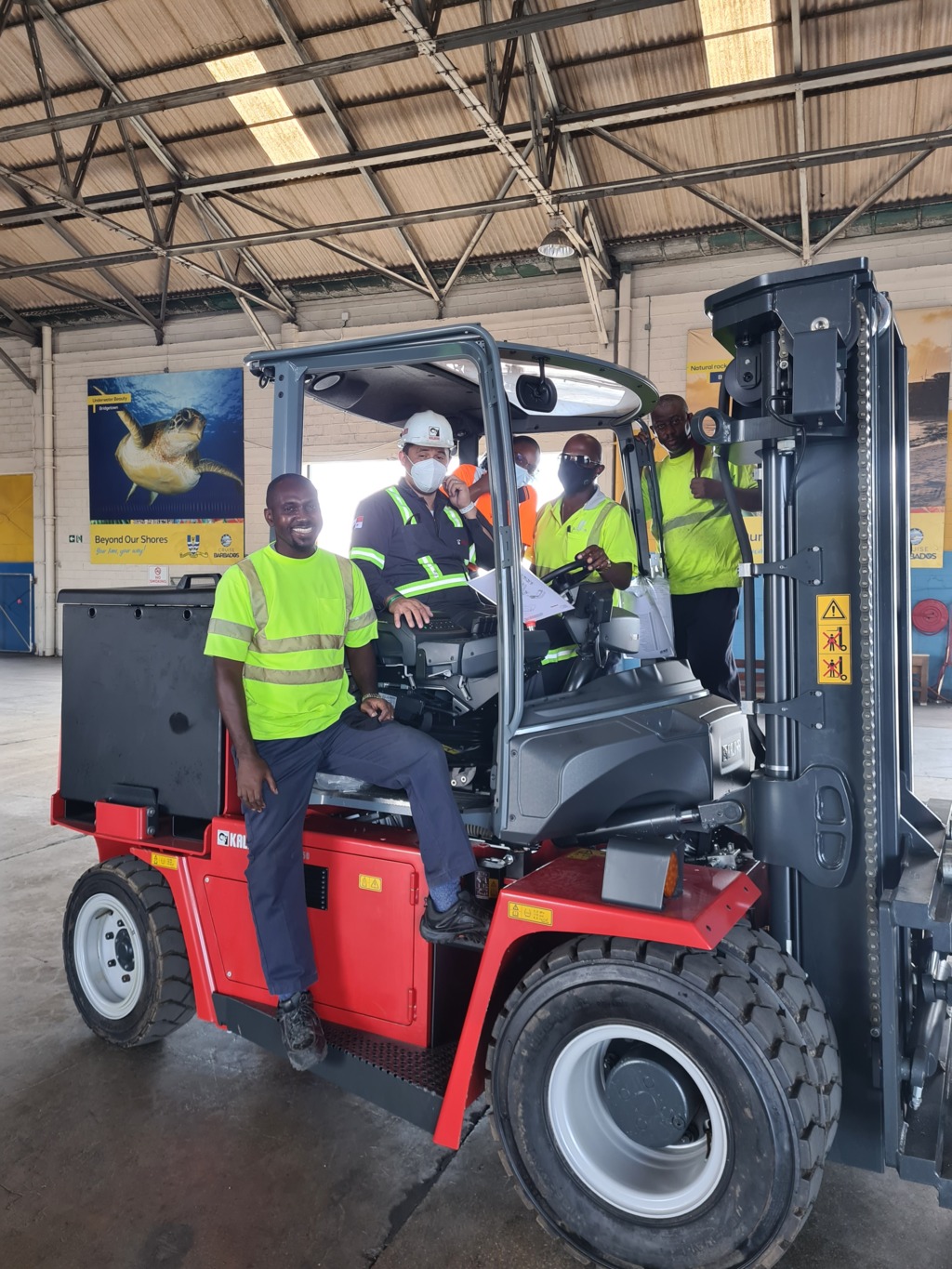 As for the new Kalmar hybrid straddle carriers, many of the same advantages apply, according to Ian: "The straddles are comfortable, agile, and far friendlier to the environment. "I hear plenty of positive feedback particularly about how quiet the machines are."
Johnny Medrandra, Sales Manager, Central America & Caribbean at Kalmar concurs: "Switching to hybrid straddles slashes fuel costs, a key factor in a market like Barbados where fuel is expensive to import from overseas. It can also transform a terminal's sustainability performance, saving up to 50 tons of CO2 emissions per machine per year," he points out.
Luigi Vergara, Sales Representative Central America and Caribbean at Kalmar continues: "Our electric forklifts provide the same level of performance as powerful diesel machines but without the emissions, noise or vibration. They include a time-saving diagnostic system and our fully adjustable, ergonomic EGO cabin. We're proud to be able to say that they are the first electrically powered forklift trucks we have delivered to a container terminal in Latin America."
"The Kalmar team has built an excellent relationship with Ian and his team, and our service experts are always available to support Barbados Port Inc. with any issues that may arise," Johnny concludes.
A bright future lies ahead
Digital innovations and innovative add-ons for systems and equipment will have an important role to play in the future of Barbados Port – a future in which Kalmar is set to feature heavily.
"We are very interested in seeing how the latest cutting-edge digital innovations from Kalmar can help us to fine-tune and optimise our operations moving forward, in terms of both our Kalmar and non-Kalmar equipment. The next big steps will be beginning our automation journey with Kalmar's help and integrating all our equipment into our terminal operating system. This integration will give us a real-time overview of key parameters like fuel consumption, equipment status, driver performance, and so on. This is the future for our terminal, and we are ready to take our first steps into that future with Kalmar."